The job market in Dubai, though fast reaching its saturation level, especially for expats, however, still attracts people from India, Pakistan, Bangladesh, Sri Lanka, Philippines, etc., with various job opportunities.
Sectors which have more employment prospects for job aspirants in Dubai are health, education, information technology, oil and gas, hospitality, engineering, construction and services.
Though Dubai has transformed itself from an oil-dependent economy to multi-industrial one, revenues from oil and natural gas still account for seven per cent of the emirate's total income. Oil refineries and offshore companies are trying to explore new sites to find more oil and natural gas.
Job opportunities offered by these companies are always high. From engineers, supervisors, shut-down experts to technicians, oil and gas companies in Dubai need all kinds of workers to fulfil their requirements.
As safety plays a major role in the existence and growth of oil companies in Dubai, every offshore firm has a separate section which deals with health, safety and environmental (HSE) issues related to work places and workers. One of the most important job positions available at the safety and health departments of oil and gas industry in Dubai is for "Safety Officers."
Safety officers, who are responsible for the safety and health of men and machinery in the oil and gas field, should be HSE experts themselves and also NEBOSH certified professionals.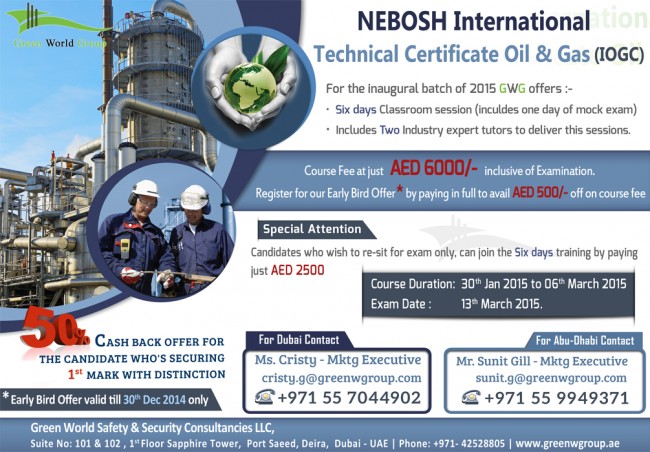 Please Click the link For More on: Nebosh IOGC course in Dubai
NEBOSH is an independent UK-board which offers certification programmes through its affiliates across the world on safety procedures to be adopted in various industry setups including oil and gas industry.
Green World Group in Dubai offers NEBOSH International Technical Certificate Oil & Gas (IOGC) for aspiring students who want to become safety officers in oil and gas field. The course also helps working professionals to upgrade their knowledge and skills for career enhancement.
One of the highly recognised HSE qualifications in the oil and gas field, NEBOSH-IOGC deals with promoting safety and health among workers associated with companies involved in oil and gas exploration. The training helps students and working class to enhance their knowledge and skills on work site safety and perform independently to safeguard people and property.
Ideal for managers, employees and supervisors associated with the safety section of oil and gas industry in Dubai, NEBOSH Oil and Gas certificate, helps them to run offshore units continuously without unprecedented shutdowns due to accidents.
On the job front, NEBOSH-IOGC certified professionals are highly preferred by the industry for deployment in their safety department without formal training.